2018 URGENT PUBLIC NOTICE!
This year to celebrate our Canada 150th birthday , your/ our volunterr TEAM CDN ! have changed our basic 10 K or less group format ....... to a more individual 10 K or less format wherever YOU may be located around the world ... or at camp ... or attending a seminar ... or sitting in your own backyard !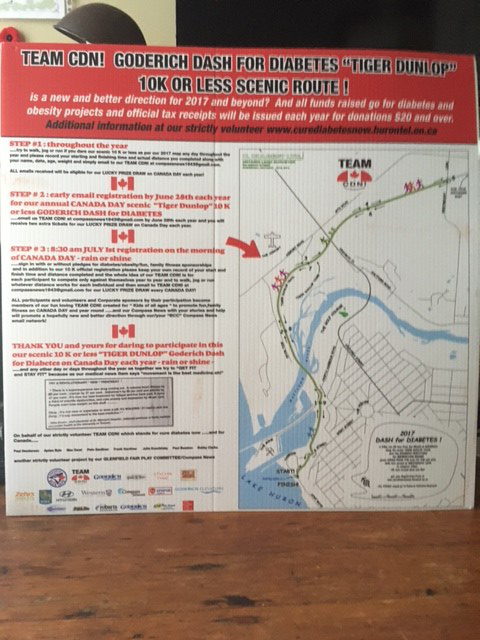 Please visit our volunteer web site at www.curediabetesnow.hurontel.on.ca especially the links at the bottom of the page and let us know how you think we can make this web site more effective !

The fun family fitness idea inspired by my two grandsons this week at a summer camp in beautiful British Columbia is to challenge " kids of all ages " to our STEP # 1 : throughout the year ... to simply try to walk, run, jog our 10 K as per above Goderich map ...OR ... create your own 10 K or less course wherever you are located !

We only ask that to qualify for our Team CDN ! Lucky Prize draw this Thanksgiving 2017 weekend .....AND ..... for our 2018 Canada Day .. that you email us your name , age and weight and your own 10 K or less time , date and location .

The basic good idea here is that no matter what your age or 10 k time is , YOU are competing only against yourself year to year !

And It is OPTIONAL ...... if you want to raise pledges ( or not ! ) for our volunteer Team CDN diabetes and obesity research at Western University in London Ontario and Western will issue official tax receipts for full amount of pledges or cheques $ 20 . and over !

Please note that if YOU and your own Team CDN ! wish to enter our 17th annual scenic -rain or shine - Canada Day 2018 Team CDN ! " Tiger Dunlop " 10 K or less in GODERICH on July Ist 2018 , you must email us at glenfield1862@gmail.com or compassnews1943@gmail.com before registration deadline of June Ist 2018 ! We .. your volunteer Team CDN ! .., with YOUR help and participation have raised so far $144, 567 . for Diabetes/obesity research at Western University !

THANK YOU !

For further information ... please contact " Grampy Frank " at glenfield1862@gmail.com ... or compassnews1943@gmail.com or simply phone 416 486 1471 or 416 819 1919


D4D Map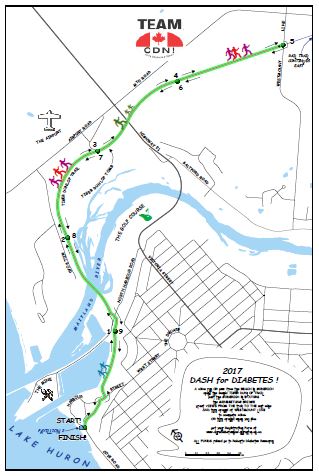 Click here to download a copy of the 2017 Dash For Diabetes Goderich Map!
2017 URGENT PUBLIC NOTICE!
OUR volunteer 2017 16th annual GODERICH " Dash for Diabetes " will this year be CANADA DAY - Saturday JULY 1st 2017 at Pavillion TWo just past the old CPR station with Registration at 8:30 am - rain or shine . OUr annual walk/jog/run will start at 9 am from PAvilion Two - rain or shine - and go out across the scenic CPR bridge along the " Tiger Dunlop " trail for 5 K and return to Pavilion Two for total 10 K .

SInce we are a strictly volunteer annual event ,all participants must fill out a entry form and record their own start and finish times whether they walk/jog /run the full 10 k or choose to go only 5 K or 1k AND Toronto Blue Jays baseball tickets and other prizes will be drawn from all registration forms on Canada Day .

Entry fee is either $ 10 or a 2017 pledge sheet and all pledges $20 and over will receive a official 2017 tax receipt . ALL CHEQUES for our 16th annual scenic TEAM CDN ! GODERICH Dash for Diabetes MUST BE MADE OUT to " CURE DIABETES NOW ! " Our 2017 theme is " BUILDINGS BRIDGES " to fun, family fitness ..... To honour our CANADA 150th celebrations this 2017 and special TEAM CANADA T shirts sponsored by local organizations and business will by given to all participants and sold separately for $ 20.17 each for non-participants !

For further information please contact Frank Gardiner aka " Grampy Frank " at glenfield1862@gmsil.com or phone 416 486 1471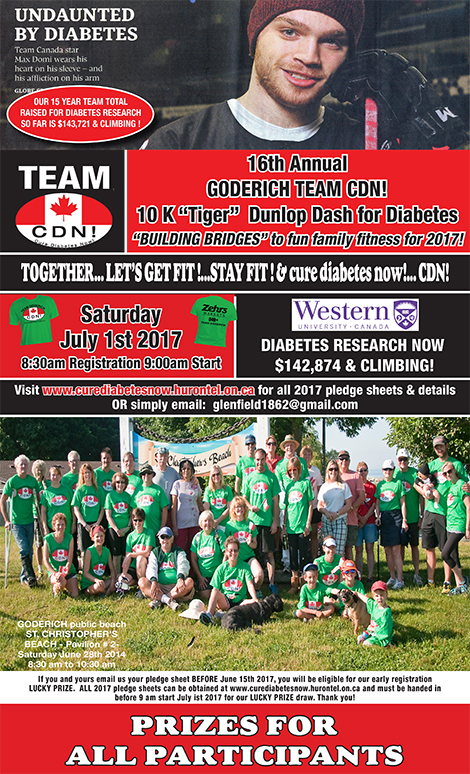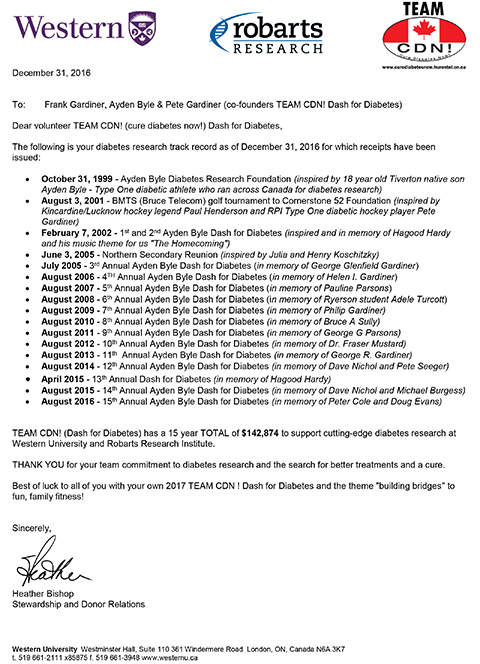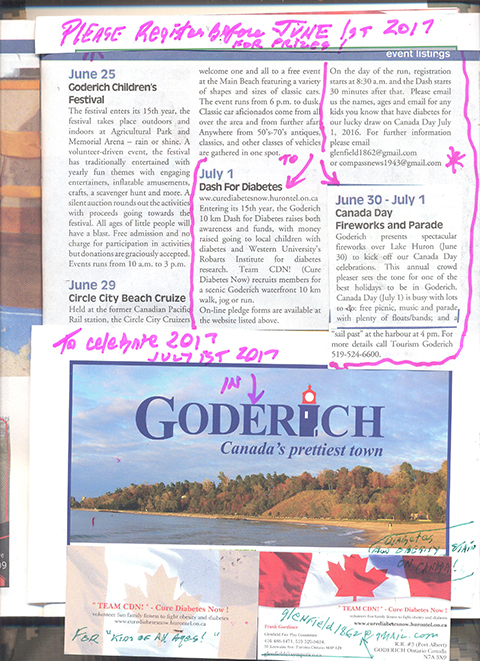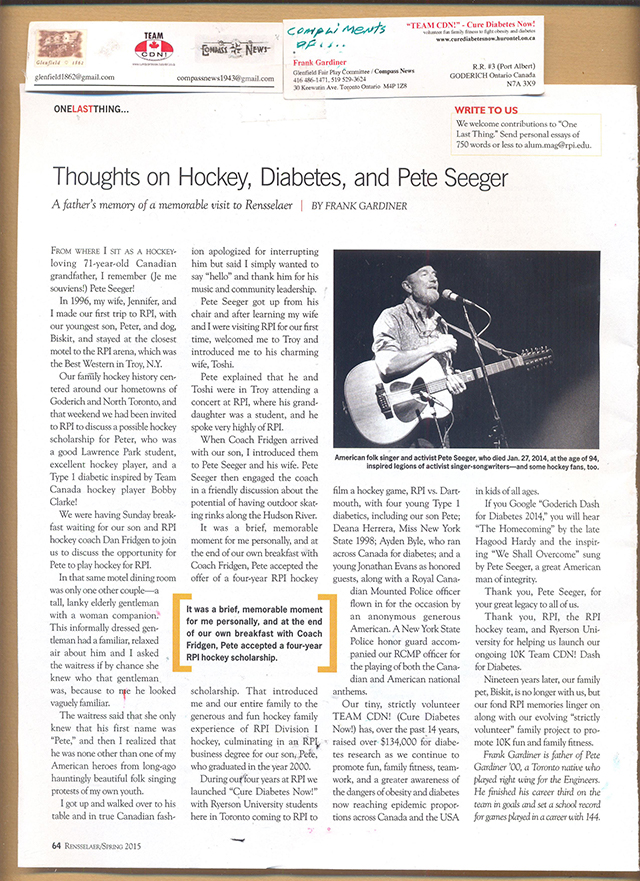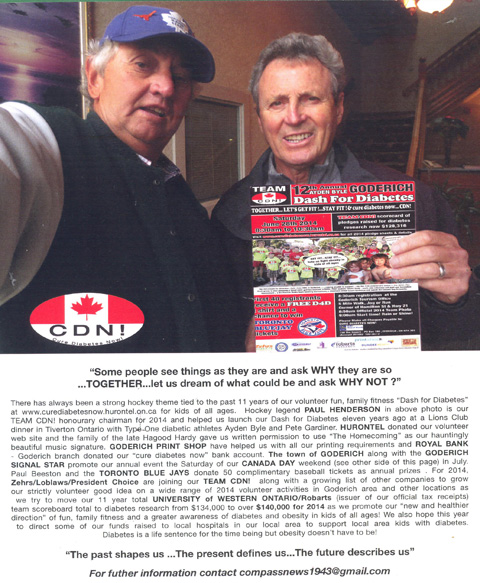 | | |
| --- | --- |
| | The HARDEST thing in the world to sell is an idea. |
| | TEAMWORK is the ability to work together towards a common vision. The ability to direct individual accomplishments towards organizational objectives. It is the fuel that allows common people to attain uncommon results. |
| | "We can never give up the belief that the GOOD GUYS always win. And that we are the good guys." pg.85 The Popcorn Report 1990 |
| | Success to TEAM CDN! is..."to laugh often and much; to win respect of intelligent people and the affection of children; to earn the appreciation of honest critics and endure the betrayal of false friends and family; to appreciate beauty, to find the best in others; to leave the world a bit better, whether by a healthy child, a garden patch or a redeemed social condition; to know even one life had breathed easier because you had lived. THIS is to have succeeded." -Ralph Waldo Emerson |