2018 URGENT PUBLIC NOTICE!
For Goderich ... and for other areas be it USA , England or Mexico .. or wherever ... that this year would like to create their own 10 K Dash for Diabetes and yet still qualify by emailing their information by June 15th 2018 for our Canada???? Day Lucky Prize Draw !




Changing date for this year 2018 Team CDN ! Goderich Dash for Diabetes from July 1st 2018 to whatever date and location you choose to run your own Team CDN ! Dash for Diabetes !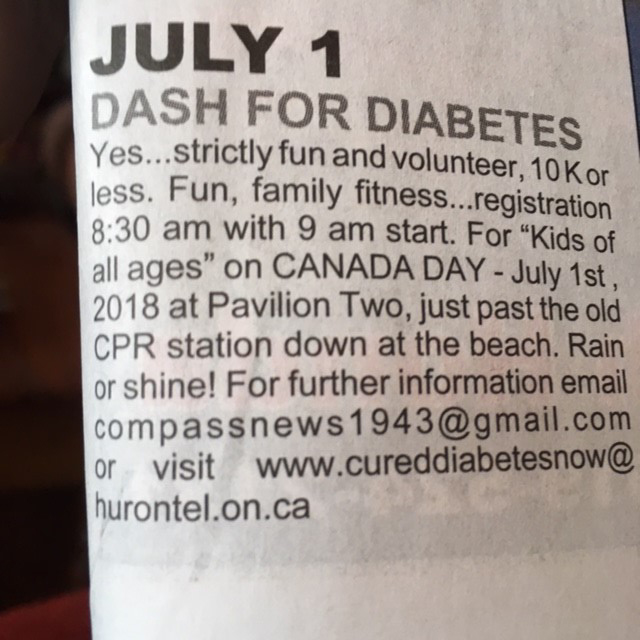 APRIL 25 th 2018 ... special announcement ! ... and update to ALL participants and volunteers .. and " kids of all ages ! "

If you live in our Goderich/ Port Albert area .... Your TEAM CDN ! Dash for Diabetes wants YOU and your family and friends to register before June I5th 2018 by email so that all your names will qualify for our Canada ???? Day 2018 Lucky Draw !

THIS year we are cancelling our specific day only of Canada ???? Day Dash for Diabetes .... in favour of any and all participants picking their own best day , time and location for their own 10 K or less... or .... 10 K or more and on the honour system simple email us your name age, weight, date of your own run, jog or walk , location and your distance and time you finished your own personal 2018 Dash for Diabetes.

All information will be confidential and will qualify for several prizes and this YOUR personal private " Dash for Diabetes" information will be kept year to year for comparison since ALL participants are only competing against themselves year to year .

For 2018 ......YOU choose where and when YOU run , walk or jog YOUR very own Team CDN Dash for Diabetes!

Following is our very scenic GODERICH 10 K or less route so if you live in our Goderich area , please check it out and select your own best date and time for your own Team CDN ! Tiger Dunlop Dash for Diabetes !

This year we are also hoping to have participants from Vancouver , Collingwood , Toronto, ???? ... Austin Texas, Portland Oregon ???? and Bucerias Mexico ???? ! Creating their own favourite 10 K or less walk, jog or run course .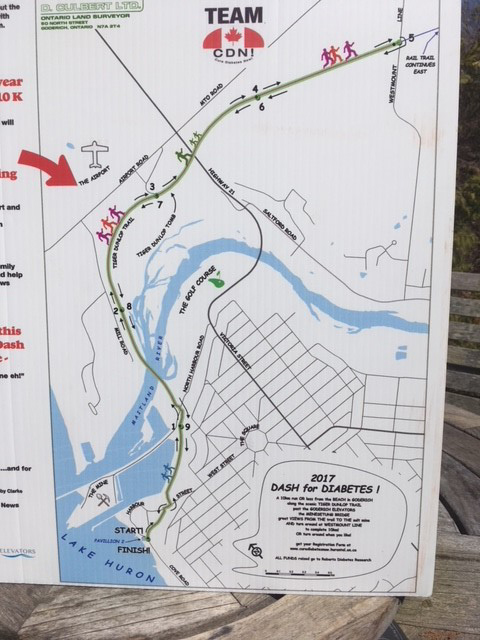 ..and for 2018 we are stressing WALKING and pledges and entry fee are optional for this year 2018 !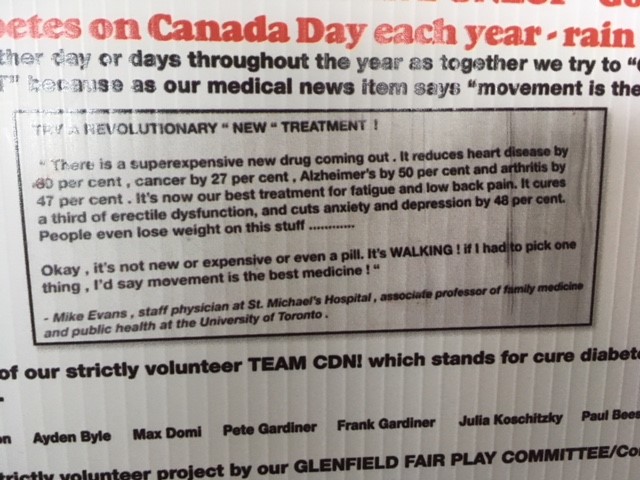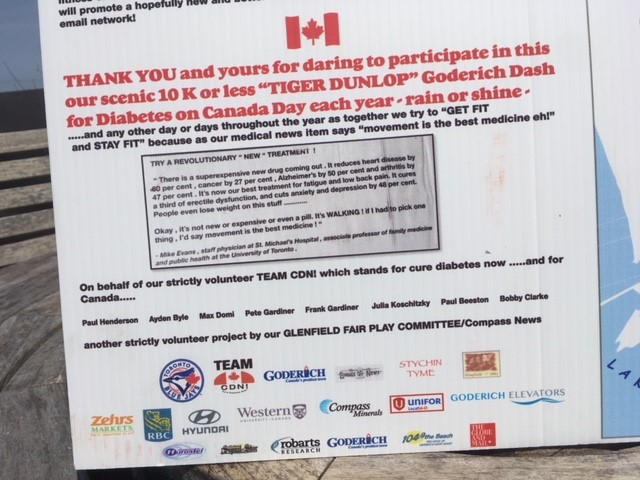 THANK YOU !

For further information simple email compassnews1943@gmail.com


Ps... if you only plan to lose weight , please join our " 4 F " ( stands for faith, fun, fasting and fat ! ) bcc email network ! Simply email us your own " fat and weight loss " story along with your tips for losing weight and your confidential email will qualify for a special group of " 4 F " prizes in our Canada ???? Day Lucky Prize Draw !